We are residential painting contractors that provide both interior and exterior painting services.
At Dave's Painting, you get prompt, professional service when it comes to painting your home. When you need your home painted quickly at a low, competitive price, we are the ones to call. Dave's Painting is a Colorado based company that performs residential interior painting that fits your budget and meets your needs.
We work with you and your schedule to ensure that the job gets done in a professional manner. Everything starts with a call to Dave's Painting to schedule our services to your home. With over 25 years of experience, we can handle virtually any indoor or outdoor painting job and do so by using the latest techniques and trends.
Why Choose Dave's Painting?
There are a number of reasons why you should choose and hire us as your residential painting contractors. For over two decades, we have been serving the greater Denver community with the best in interior and exterior painting for residential needs. Whether you just need a wall painted or the entire interior of your residence or facility, we are here for you.
Quality: We emphasize the highest quality in our work because we want you to have the best when it comes to interior painting. We use the best paint, materials and equipment to make sure that the job is done professionally and quickly. Plus, you will enjoy your newly painted interior for years to come as well as we guarantee our work.
Professional Service: When you call our offices, our friendly, professional staff is there to take your order and answer all of your questions. We send out a professional residential painting contractor as our representative to your home or facility to make sure that you get the right quote for what you need. Only when you agree do we then move to the next step.
Timeliness: Once an agreement is made, we then schedule your home or office for our interior painting service at the earliest possible convenience to you. Quite often, we can be there within a week or two to start the job so that we can finish it as soon as possible. We emphasize a professional, high quality service in everything that we do, but we realize that you will want the job done as soon as possible as well. Our professionals will make sure that we get everything done right as quickly as we can.
Stress-Free Experience: We pride ourselves in providing the best in interior and exterior painting services while causing as little disruption as possible. We work with you to ensure that everything goes smoothly and answer all of your questions and work to complete the job quickly and professionally.
Fully Insured: This is important because if for any reason we cause any damage to your home, it is fully covered by our insurance policy. Unlike the uninsured companies you will not be stuck with the bill for any damages that we might cause.
Our Promise to You
At Dave's Painting, we offer the best in professional interior and exterior painting services in the greater Denver area. Our reputation is based on the skill of our employees and the many satisfied customers that we have worked with over the past 25 years. However, we understand that our reputation is only as good as the last customer we serve.
Let us show you why we are the best in Denver when it comes to residential interior and exterior painting. Dave's Painting is the one you want to call for the best in interior painting services.
Painter For A Day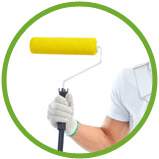 Shedule a Dave's Painting painter for a day to paint a bedroom, create those difficult painting lines, make touch-ups to your home and more.
Personal Color Viewer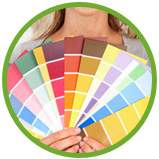 Design your own room with the Personal Color Viewer. With just the click of a mouse you can virtually paint your room online in seconds
Lead Safe Certified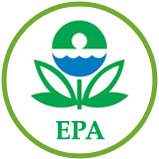 Contractors who perform renovation, repairs, and painting must train in lead-safe work practices before renovating certain projects
---
Our Services
Interior Painting
Got interior painting Ideas? Issues with an old paint job you don't know how to fix? We can help!
Cabinet Refinishing
Give your kitchen a new look by painting old wood cabinets.
Faux Finishing
Find out how our faux paint finishes can give your home a boost of style.
Custom Door Restoration
We can restore and refinish your wood doors at a fraction of the cost of buying new.
Wallpaper Removal
Removing wallpaper can be a pain. Let us help!
Drywall Repairs
Including Dings, Dents, Holes, Wall Texture Repair, Patchwork Due to Recent Addition.
Minor Wood Repair
Our minor wood repair includes interior/exterior trim, exterior siding, doors and moldings.
Custom Trim Painting
Proper preparation of wood surfaces is vital to ensure the best paint adhesion and provide you with a beautiful, long lasting finish for your home.
Texture,Spray,Brush
We do it all!
Venetian Plaster
Transform your plain walls with the beauty and texture of Venetian plaster.
Exterior Painting
A fresh exterior paint job has the power to totally transform the look of your house.
Deck Restoration
Dave's Painting can restore, clean, repair and refinish an outdoor deck to its original beauty.
Exterior Staining and Sealing
Staining and Sealing the exterior wood trim and siding of your home or office can bring out a look of elegance and sophistication with the proper application.
Power Washing
Providing power washing services for your home's exterior surfaces before painting.
Special Offers
Our Client Speaks for Us
"Dave's Painting has done a number of different projects for us over the past several years, including the exterior of our home and most of the interior. Dave and his crew consistently have done a fabulous job!! The lines and finishes are perfect and the overall quality of work is truly exceptional. Dave is honest, hard working, and conscientious in all respects. His team gets the job done quickly and efficiently with no hassles or delays. I can HIGHLY recommend Dave's Painting for any job you may have!!"
---