Paint your way to a beautiful house – 5 DIY paint ideas for your house
One cannot stress enough the role that paint plays in beautifying your house. The way your house is painted speaks volumes about your decorating preferences. If you are in the process of decorating a new house or apartment or want to revamp your current one, read on to know about 5 exciting DIY paint projects that you are bound to love. Have a look at the following DIY projects and gain inspiration to start yours today.
1.Neon Shock
Whether it be in home décor, furnishings, fashion or makeup, the neon trend is gaining immense popularity and has come to stay. Neon wall paints instantly brighten up a dull room and give it a trendy feel. If going neon on all the room walls feel a tad bit too much for you, then go with painting one of the walls in a neon color of your liking. That one neon wall can be used to hang pictures and paintings on, giving your room a chic-gallery look. Another way you can incorporate the neon shock on your walls is by painting the color in horizontal or vertical stripes, over a more subdued base wall color.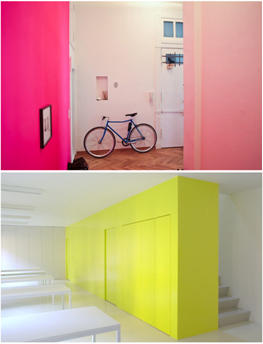 Modern Sequins
2. Painted Wall Stripes
Painted stripes on a wall beautify a wall even more. Done just right, stripes are an affordable way to give your walls a wow factor. They can be vertical or horizontal, varied or symmetrical and subtle or bold.  It is difficult enough to design, measure and you're your room for painting stripes, but the greatest difficulty lies in painting even lines. One of the best ways to achieve an even, crisp line is to first pant a lighter base color on the whole wall and leave it for an appropriate time period to dry. If you are painting stripes on an existing wall which has been painted before,  make sure that the original color is available for you in enough quantity for touch ups. Lay the tape lines In the direction you want and use a roller or brush to seal the tape edges with the original color. Let this dry, and then paint on your contrasting color for the stripes over it. Remove the tape while the paint is still wet. This will give you a clean stripe and the only seepage you will see is the original paint color, which will blend in fine. Lay out your tape lines, then seal the edges of the tape with your original color using a brush or roller.
Elle Decor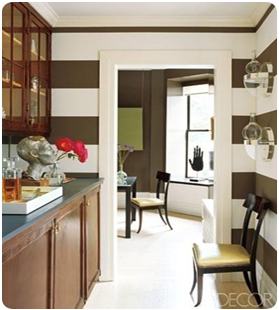 Wee Decor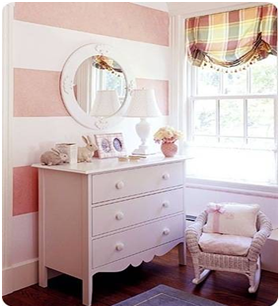 3. Painted staircase risers
Staircases usually remain a boring part of the house. One way to brighten them up is to give them a fun look by painting different colors on the risers. Use painters' tape to mark off each tread. Start from the top stair and work down. Use a two-inch brush or a small roller to pain each riser in your chosen color. Before the paint dries, carefully remove the tape. Remove the tape before the paint has dried. A tip for painting; make sure all the paints you use are the same, we suggest  a semigloss finish.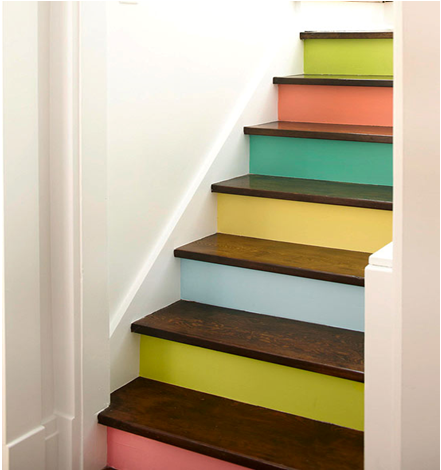 4. Whitewashed door
A creative technique you can use to revamp a bedroom or a room door is to white wash it. Any old wooden door would work for this project. If you don't have a cider door hanging around your house, look for one in the thrift store or lumber yards. If you want to step up the game, try painting the door a dark brown and then apply the whitewash technique. The brown peeking through might give a similar effect.
Now to the process. The first step is to sand your door ( you might not need to if its rather beat up), and clean it up. In two parts white, flat, latex paint, mix one part water. Use this paint mixture on the door with a brush, painting in the direction of the wood grain.  The brush would not be enough on its own. Make use of rags or paper towels to smudge, wipe and rub the mixed paint into the wood, keeping the direction of grain in consideration.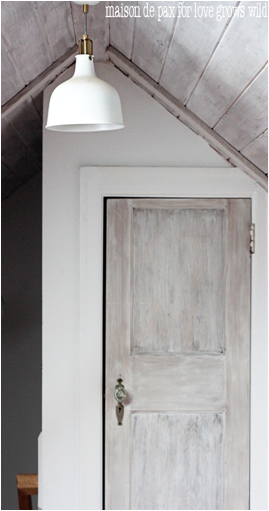 5. Paint Splattered Wall
If you want tan artistic look for your room, a creative idea can be to splatter paint your wall. Start off with a bare wall in a subdued base color such as white, cream, gray etc. If you want a more stronger effect, start off with a darker base. Its important to know that only the brighter color paint would show up as splatters on a darker base. For this project, only small sample size paints would be needed. Apart from that, get a brush and some painter's tape.  You will also need to get something to keep the surfaces clean such as trashbags, dropcloths or just plain newspapers. It is assumed that you will remove all the furniture out of the room.  The prepping aspect is crucial for this process. An easy way to protect the room is to use trash bags with painters tape. In short, the things you need to protect from the paint are : ceiling, adjacent walls (if you want), baseboard outlets and light switches and floor Keep a damp rag with you to wipe away any accidental paint mishaps.
Start off the paint splatter with the darkest color. Let it dry before throwing the next lighter colors. Don't throw the paint in monotonous directions, so that there is a more random look.  Hold the brush from down low of the handle or the middle. Don't hold it from near the bristles. Stand a far enough distance away from the wall so that the brush does not touch it. To create the splatter, make use of an elbow or wrist flick motion rather than moving your shoulder, this will gain you momentum.
Creative Kristi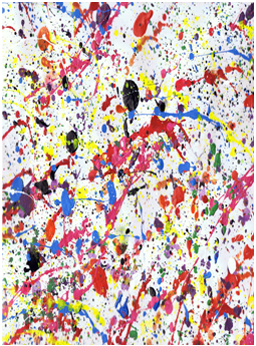 Home deco 2 u